Sat 12 June 14:00
Zoom
1h 00min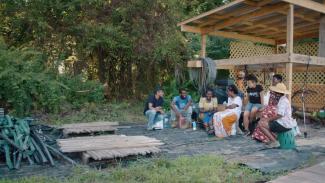 The climate crisis is a global problem. We need to change our way of living if we are to avert disaster. But who is 'we'? Who is responsible? And who is most affected? Join this panel discussion with Malawian farmer and community activist Anita Chitaya, filmmaker and author Raj Patel, and director Marc Bauder to explore our understanding of the global; and the crisis with how we view the environmental crisis.

This discussion will be hosted on Zoom. To register for this discussion please click here.

Moderator
Jamie Allan, curator of the DocFest Exchange

Participants
Raj Patel, academic, author and director of The Ants and the Grasshopper
Anita Chitaya, farmer, climate change activist, community leader and protagonist in The Ants and the Grasshopper
Marc Bauder, director of Who We Were


For the full DocFest Exchange: Beyond Our Own Eyes talks and films programme click here.

This talk will be live captioned by Ai-Media.

Image credit: The Ants and the Grasshopper (2021)