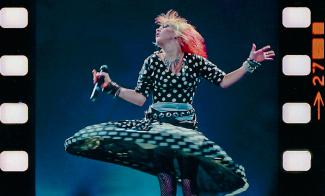 Book Tickets
Screening of Let the Canary Sing, followed by a conversation with director Alison Elwood and special guests.

'If you don't know where you came from, you don't know where you're going', muses multiple Grammy, Emmy, Tony, Billboard and American Music Award-winner Lauper. Fluidly combining archival footage, home movies, still photographs and interviews, Ellwood´s film traces the New Yorker's career, from humble beginnings in a cold-water walk-up in Queens to worldwide fame. It captures her boundless enthusiasm on stage, but also hones in on her personal relationships and life-long work in feminist and LGBTQI+ spheres. The latter culminated in a 2015 speech to Congress in support of extending protections for queer, homeless youth. There's also footage from a march where she revels in the repurposing of her 1983 hit into the protest slogan: 'Girls Just Want to have FunDamental Human Rights'.
Open Captions - spoken dialogue and sound effects in the film will be converted to text and appear on screen.
Please click here for venue accessibility information.