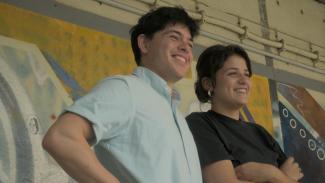 Book Tickets
Screening of Long Distance Swimmer - Sara Mardini followed by a conversation with director Charly Wai Feldman.
After their act of heroism at sea, Sara and her sister Yusra were transformed into international celebrities. Sara became an activist and Yusra an Olympic swimmer. After their passage to Europe was guaranteed, Sara kept helping her fellow migrants and refugees, volunteering as a lifeguard with Emergency Response Center International. Because of this she was arrested by Greek authorities on various counts, including people trafficking. Long Distance Swimmer details Sara's daily life in Berlin, as she awaits the outcome of charges that could send her to jail for years. A hero to many, she is also the victim of a system – which has come to represent so many across the continent – increasingly influenced by xenophobia.
In association with Migration Matters Festival.
Open Captions - spoken dialogue and sound effects in the film will be converted to text and appear on screen.
Please click here for venue accessibility information.

In this show
Long Distance Swimmer - Sara Mardini
88 mins
More Info