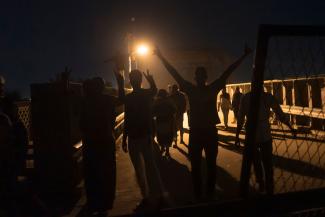 Book Tickets
Against the brutality of war, dictatorship, white supremacy and settler colonialism, these films focus on the power and joy of resistance. They employ cinema as a tool to honour the actions of ancestors, to pay homage to those working for peace and to imagine new worlds beyond injustice.

Three Windows on South West
Mariia Ponomarova / Ukraine, Netherlands / 2023 / 8 / World Premiere
A filmmaker reminisces with her mother and friends about her childhood apartment. Their stories of love and friendship become the backdrop for a very different story.
Suddenly TVقناة فجأة
Roopa Gogineni / Sudan, Qatar / 2022 / 19 / UK Premiere
A group of young Sudanese revolutionaries create an imaginary television station. Interviewing protestors, they confront the violence of the regime and imagine a new Sudan.
Yarokamena
Andrés Jurado / Colombia, Portugal / 2022 / 21 / UK Premiere
From the mouth of a descendant, we hear the story of Yarokamena, an Indigenous leader who organised an armed resistance to rubber exploitation in the Amazon.
What the Soil Remembers
José Cardoso / Ecuador, South Africa / 2023 / 29 / UK Premiere
Community elders use their collective wisdom, spirituality and patience to confront one of the many injustices of apartheid, in this energised portrayal of reconciliation.