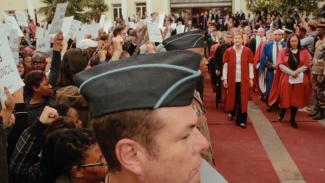 Book Tickets
Community elders use their collective wisdom, spirituality and patience to confront one of the many injustices of apartheid, in this energised portrayal of reconciliation.

A vibrant and diverse community once flourished in these fertile South African lands. Today, its elders tell the story of how their people were uprooted to make way for Stellenbosch University, once the epicentre of apartheid ideology. Despite the scars of displacement, the community has remained connected. In this complex and powerful film, we witness what seems like a genuine process of reconciliation – the university recognising the guilt of its past and the power of the community coming together to demand reparations. Although progress continues apace, there is the question of whether this is enough.

Content Guidance: contains racism and offensive language.
This film will screen as part of the programme Shorts: Resist.
Topics

Premiere status

UK premiere
Film details
Director(s)

José Cardoso

Country(s)

Ecuador

,

South Africa

,

Netherlands

Year

2023

Duration

29 mins

Executive producer(s)

Kurt Otabenga Orderson

Producer(s)

Juan Castro de Jong, Adrian Van Wyk

Cinematography

María Fernanda García

Editing

José Cardoso

Sound

Santiago Landivar

Language(s)

Afrikaans, English, Xhosa

Subtitles

English Subtitles Throughout

Certification