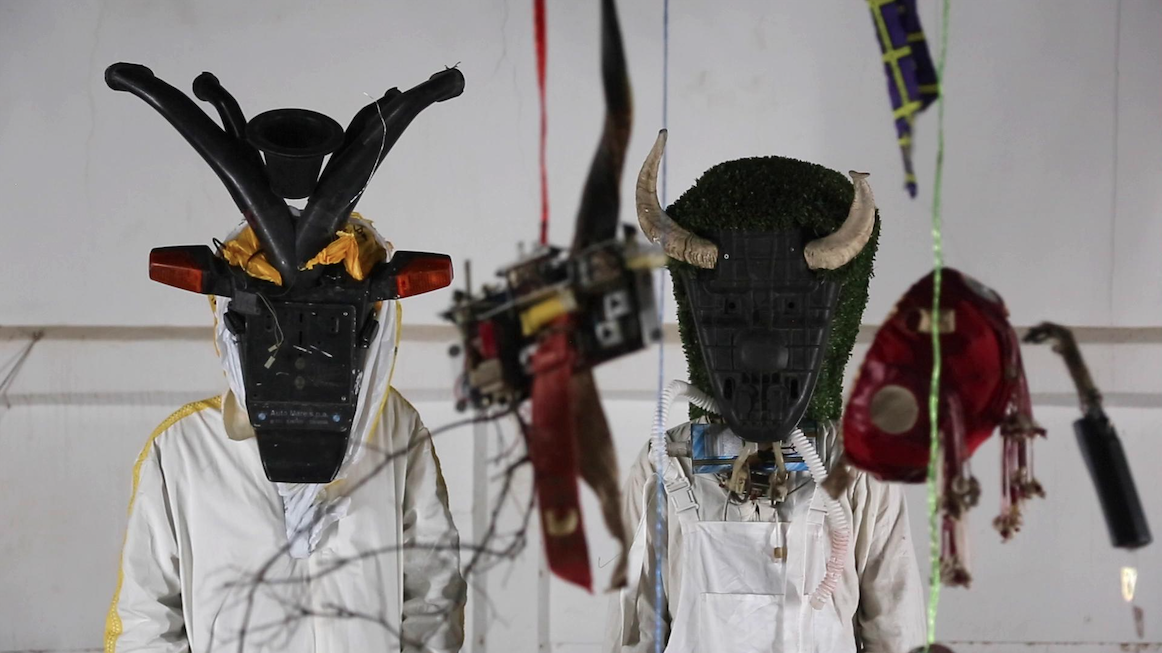 In collaboration with SET, we're delighted to announce a group exhibition which includes moving image, installation and sound works from artists Duncan Marquiss, David Haxton, The School of Mutants, AWU Radio and Anuj Malhotra, alongside a newly commissioned work by artist (and SET studio holder) Eleni Papazoglou. The commissioned work consists of a new piece of writing that intertwines David Haxton's video piece Painting Room Lights (1981) with the building of SET Woolwich, Riverside House.
This exhibition, curated by Joe Cutts, is part of our touring Alternate Realities programme and is supported using public funding by Arts Council England.
Situated in SET's new centre, the displayed works will respond to the architectural features of SET Woolwich's urban environment, presenting a journey through a repurposed 1960s office building which has been temporarily transformed into artists' workspaces. The exhibition invites curiosity, intimacy, and investigation into what could exist beyond, below, or within the space's fabric, as though the building itself is a living thing, possessing a pulse. The video, text and sound based artworks in this show combine real stories of ownership with fictional re-imaginings, with each work exploring the cultural and social implications of inhabiting space or territory.
Exhibition: Thursday 13 – Tuesday 18 January, 11:00 – 18:00 at SET Woolwich. Book here. 

Coffee Morning: Saturday 15 January, 11:00 – 13:00 at SET Woolwich. Book here. 

Artist Led Workshop: Sunday 16 January, 15:00 – 17:00 at SET Woolwich. Book here.
The selected works have been taken from the 2021 Arts Programme, curated by Soukaina Aboulaoula and Herb Shellenberger.
The works in this programme are:
Mirror Test
Duncan Marquiss / United Kingdom, Scotland / 6 mins / 2019
The 'mirror test' is a behavioural science experiment in which an animal is presented with a mirror to see if they recognise their own reflection, or mistake the image for another animal. Corvid birds such as magpies and jackdaws have reportedly passed this test, yet it remains uncertain if the experiment proves that an animal is self-aware. 
In Mirror Test, a jackdaw explores a domestic interior, flitting between shelves and disrupting kitchen counters. Images of Jacky exploring her environment are accompanied by an interview with Kerstin and Stephan Voigt, former residents of East Germany who live with the bird. Their conversation ranges from speculations on animal intelligence to ambivalent recollections of the reunification of Germany in 1990, recalling double lives within the GDR and the self-contradictions of the capitalist democracy that consumed the East. 
Painting Room Lights
David Haxton / United States / 9 mins / 1981
Originally recorded on 16mm celluloid film, Painting Room Lights follows a manual process of the artist performing what appear to be simple gestures that give illusion to creating unexpected worlds. Haxton's aim's towards world building, layer compositions of methodical and recorded acts through this guided visual narrative, whilst highlighting the properties of light and darkness. 
In its process, we see the performer painting four fluorescent lamps and making a drawing of a landscape with a rectangular solid in the foreground. The work, from beginning to end, carries an alluring quality, giving more prominence and weight to the visual, where sound is not apparent, suggesting focus is to be kept on the direction of the choreographed movements, building an anticipation. Recorded live within Haxton's studio, Painting Room Lights emanates from the realness of the artist's domestic space, manifesting towards a fantastical outcome. 
The School of Mutants
The School of Mutants, Stéphane Verlet-Bottéro, Hamedine Kane / Senegal / 12 mins / 2019
The School of Mutants is a 3 screen installation staged around the ideals of a speculative and real future. It begins with a radio interview between two characters discussing how to inhabit a territory in an uncertain time. Their discussion is met with a backdrop of a landscape collating industrial ruins that surround them. Maintained at a slow unnerving speed, the imagery is a catalyst for the despairing indifference between the characters. 
Visions of their futures are then called into question, as doubt between them begins to form, causing friction and ethical torment. Values versus value becomes the centre point of the dialogue here as one character emphasises the need for organic behaviour towards living among the ruins, a belief system contrasting to the opinions of the other, advocating for gentrification and the role of power structures.
Trans-Temporal Echoes
AWU Radio / Senegal / 28 mins / 2021
Trans-temporal Echoes was commissioned by Soukaina Aboulaoula for the 2021 Arts Programme as part of Right on Time Radio. 
Trans-temporal Echoes is a sound composition of distant voices and dialogues between women and whales, echoing each other telling stories of water, fluid time, deep time and residence time. Telling stories of contemporary urban life with fragments of knowledge of precolonial West Africa, it questions the governed social conceptions of linear time and the past. 
Communicated via a speaker system (previously used for public announcements), this guided composition amplifies the moment of trans-generational transmission, unsettling linear temporality and spatial separation.

Yeh Woh (Turmoil)
Anuj M Malhotra / India / 3 mins / 2020
Yeh Woh (Turmoil) is a letter to the continually present volatility in India, existing outside the walls of a household. The house, spoken so richly as once an abstract series of thoughts, finally being restored, is referenced as a space for retreat and disconnection. Although it holds a physical presence to it, the house also serves as a metaphorical barricade to protect from the turmoil identified surrounding it. 
By locking himself away from the outside, he attempts to remove the temptations of society and protest with a practiced apathy. "The more we try to distance ourselves from it, the more determined its pursuit becomes." In a dialogue with oneself, both the outside and inside become two polarising objects, tormenting him, but truth eventually enters the household, highlighting the inescapable realities.
18/4120/PN2
Eleni Papazoglou / Greece / 2022
Commissioned by Ellie Dobbs, curator at SET Woolwich, as a response to David Haxton's video piece Painting Room Lights (1981), 18/4120/PN2 describes the shapeshifting of Riverside House through the various activities that have taken place within it. Its trajectory from a council office building to artist studios and eventually, to residential space is described through autobiographical, anecdotal, and fictional experiences using language sourced from planning permissions, housing developers, studio practitioners and theoretical critiques of Haxton's work.
With a dreamlike sense of time and animated pace, the text touches upon themes of gentrification, temporality, community, labour and value. It acknowledges the layered existence that unfolds in premises with potent histories and profit-driven agendas. The text itself is addressed to David Haxton.
Image credit: The School of Mutants, 2018.