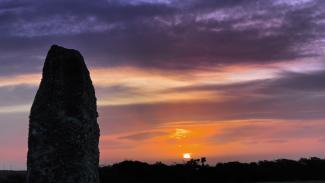 Book Tickets
Relaxed Screening of A Year in the Field, BAFTA-winning documentarian Christopher Morris reflects upon human existence, its relationship to the environment and the urgent need for compassion and transformation.
Weathering the elements in the centre of a field in West Cornwall is the Longstone, a natural relic that has quietly witnessed 4,000 years of tumultuous history. Morris' elegiac, meditative, yet profoundly important film is the record of a year in the life of the monolith, beginning onWinter Solstice 2020, as the order of the natural world began unravelling around the globe and the threat of extreme climate change became a reality. Beautifully shot, with a richly layered sound design, the film meditates on the passage of time through its appreciation of nature, highlighting the subtle changes of the seasons, but also the need to act in order to battle man-made changes that will forever change our planet.
Our Relaxed screenings are sensory adapted cinema. This means that we want them to be as inclusive as possible. You can move around and make noise during the film, the sound will be a little quieter and the lights will be up a little so you can see around you. There will be a quiet space available for everyone outside of the cinema screen and, as with all our screenings, carer tickets are free. These screenings are for everyone but they are especially programmed for neurodiverse people.