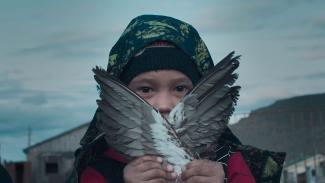 Book Tickets
Across distance and time, these four cinematic visions speak of things in and out of place. They move between disconnection and connection. An isolated Arctic village; a man seeking voices on the radio waves; the journeys of an ancient image, and a woman seeking to commune with her ancestors.

Valerija
Sara Jurinčić / Croatia / 2023 / 15 / World Premiere
A filmmaker travels to the island where her grandmother is buried. This experimental journey takes us back through her lineage of female ancestors.
Y arquitectura un sueño de palmera
Patxi Burillo Nuin / Spain / 2023 / 14 / International Premiere
Inspired by frescoes in a simple 10th-century Spanish dwelling, this film weaves thoughtful and unexpected threads between a hermitage, a museum and a spa. 
Echo
Ross McClean / Ireland, UK / 2023 / 13 / European Premiere
In Northern Ireland, a man with damaged vocal cords seeks connection across the air waves. 
PibloktoПиблокто
Anastasia Shubina, Timofey Glinin / Russia, USA / 2023 / 38 / UK Premiere
In an isolated village in the Arctic Circle, life is often brutal. Hunting walruses and whales, this community live in close relation to death.