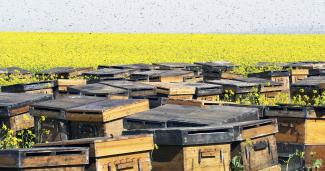 Book Tickets
The real troubles in life are often the unexpected ones. As you are looking ahead, life comes in from the sides. These three films follow characters as they navigate inner and outer change. Whether it's a mental health crisis, a city in decline, or the seasons themselves, how do we respond to the things we cannot control?
My Blonde GF
Rosie Morris / UK / 2023 / 19 / UK Premiere
An awful discovery turns Helen's life upside down. Sexually explicit deepfake images appear on a porn site, with her own face edited onto another woman's body.
Flower Chasers
Zhiqi Pan / China, Netherlands, USA / 2023 / 26 / World Premiere
Following the seasons as flowers bloom across China, a family of beekeepers try to sustain their traditional lifestyle in the face of a global ecological crisis.
A Man's Man
Myles Desenberg / UK / 2023 / 35 / World Premiere
In a hall in the North East of England seven men share their mental health struggles. With honesty and vulnerability, they start the process of healing.