2021
43min
National premiere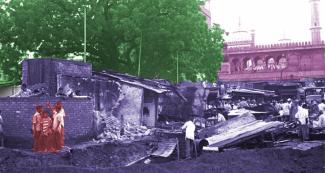 View The Blind Rabbit for free on our Online Exhibitions Platform.
Pallavi Paul brings stories to the screen that have been told but never institutionalized, often silenced/denied or swept under the rug — for lack of evidence, and accountability. The Blind Rabbit is an attempt to create a narrative from the memories and stories of collective power, resistance, and violence by using image as a tool for representation and production of a new kind of political acumen.
The film moves across moments like the national emergency of 1975-77, and the anti-Sikh pogrom of 1984, all while remaining anchored in the contemporary by recalling the recent police brutality across university campuses. These emergency times are evidently connected by the repression they serve, but what makes them interwoven across the historical time-forms is the structures behind which fuel the power to keep producing citizens as terrorized subjects.
The Blind Rabbit alternates between archive footage, text, images shot by the director, and photos to sculpt a space of reflection around all these questions.

Artist(s)

Pallavi Paul

Country(s)

Year

2021

Medium

Moving Image

Duration

43 mins

Premiere status

National premiere