میشه بغلت کنم؟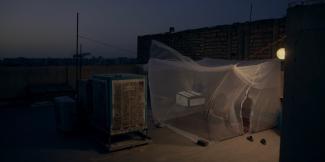 Book Tickets
In this astoundingly intimate film, Hossein brings his parents together to confront a difficult secret from his past.

In the religious Iranian city of Qom, there are many restrictions imposed on women in the name of 'sexual safety' – from the mandatory hijab to forced gender separation. Hossein grew up in this misogynistic and patriarchal context, but as a young boy he found himself subject to sexual assault by older men. Keeping a secret that no one should have to keep, this ordeal has followed him throughout his adult life. Now, with the help of his wife Elahe, he is confronting his trauma. In Elahe's courageous and profoundly intimate film, a boxed mosquito net on the roof of the family home becomes a confessional space for conversations that have been waiting a lifetime to take place.

Content Guidance: contains sexual abuse and child abuse.

This film will screen as part of the programme Shorts: Letters from the Soul.
Competitions

Topics

Premiere status

World premiere
Film details
Director(s)

Elahe Esmaili

Country(s)

Year

2023

Duration

35 mins

Executive producer(s)

Elahe Esmaili

Producer(s)

Hossein Behboudi Rad

Cinematography

Mohamad Hadadi

Editing

Delaram Shemirani

Sound

Ensieh Leyla Maleki, Mahdi Karimi

Language(s)

Farsi

Subtitles

English Subtitles Throughout

Sales Company

Hossein Behboudi Rad

Certification