Bagabaga Studios, Bataclan 1950
2020
57min
International premiere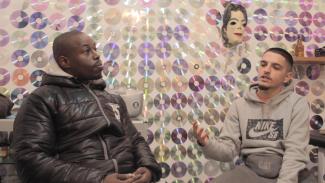 Chelas nha Kau reflects the lives and realities of Bataclan 1950, a group of friends from Zona J – a low-income suburb of Lisbon – who use rap music as a means to express their identity. Shot across three years, and emerging from a workshop with multimedia cooperative Bagabaga Studios, the film was made by the same young people that it features. Its polyphonic nature rejects both the hierarchy of auteur cinema, and the prejudices conveyed in Portuguese media, which disparage an already marginalised community with stereotypes of danger and criminality. Chelas nha Kau is a film that reveals the various layers of what it means to be young and living in a social housing project, from the personal perspectives of Bataclan 1950 and their own musical, visual, and cultural language.
Chelas nha Kau will be followed by an in-person Q&A with Bagabaga Studios which will be live-streamed from the cinema to Selects.
Director(s)

Bagabaga Studios, Bataclan 1950

Country(s)

Year

2020

Duration

57 mins

Producer(s)

José Magro, Diogo Cardoso

Language

Portuguese Creole

Premiere status

International premiere

Strands/Competitions

Subtitles

English Subtitles Throughout

Certification

Additional information

Discrimination and Police Brutality