Amchilini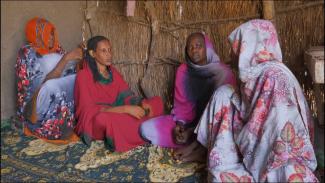 Book Tickets
Chadian director Allamine Kader Kora visits his mother's village, where a marriage proposal ceremony becomes the centre of an intergenerational debate about tradition and the freedom to choose.
In Boutelfil, on the edge of the Chadian desert, a community gather to discuss the recent drought. For the first time in 30 years, they decide to organise 'Amchilini', a tradition that obliges unmarried women in the community to choose husbands in the belief that it will ward off misfortunes. Allamine's camera reticently looks on as the ceremony unfolds, sparking animated discussion among different members of the community about their participation. A complex picture emerges – one that reveals the often-conflicting desires and aspirations of women and men across generations. Leavening tension with warm, observational humour, 
Choose Me
 is a tender and nuanced portrait of a community in transition, as a community negotiates new challenges to authority and demands for autonomy.
Strands

Playlists

Topics

Premiere status

European premiere
Film details
Director(s)

Allamine Kader Kora

Country(s)

Year

2023

Duration

69 mins

Producer(s)

Moussa Tidjani Ousman / Toumai Productions Films , Baptiste Brunner, Laurent Bitty

Cinematography

Helene Pote

Editing

Boutain Celine

Sound

Djedoumoum Christian

Language(s)

Arabic

Subtitles

English Subtitles Throughout

Sales Company

Moussa Tidjani Ousman / Toumai Productions Films

Certification