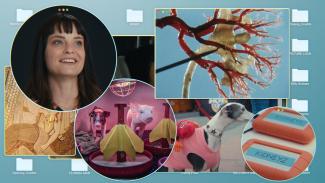 Book Tickets
Filmmaker Penny Lane's decision to donate one of her kidneys to a complete stranger leads her on a journey to understand the nature of altruism.

Can one give too much? It's a question that lies at the heart of
Our Nixon
 and
Hail Satan?
 director Lane's most personal documentary. After deciding to donate a kidney to an unknown recipient, she sets out to understand the way we approach the issue of giving. Told in the first person, Lane is forthright in discussing not only her reasons for putting herself through such a profound and life-altering act, but also the emotional impact it has had on her. Erasing the line between filmmaker and subject, Lane is disarmingly honest in dealing with the emotional fallout of her actions, but also determined to grapple with the idea of giving and the limits that we place on it.
Strands

Topics

Premiere status

European premiere
Film details
Director(s)

Penny Lane

Country(s)

Year

2023

Duration

105 mins

Executive producer(s)

Greg Boustead, Jess Harrop, Michael Cho, Mimi Rode, Tim Lee

Producer(s)

Gabriel Sedgwick

Cinematography

Naiti Gámez

Editing

Hannah Buck

Sound

Carolina Eyck (Score)

Language(s)

English

Subtitles

Partial English Subtitles

Certification