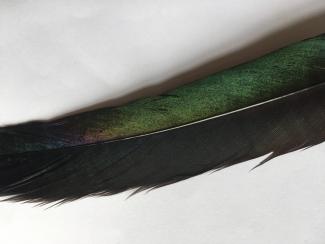 Listen to Contact Call for free at S1 Artspace or on our Online Exhibitions Platform.
Duncan Marquiss's audio work Contact Call is a series of improvised instrumentals played on electric guitar, the result of the artist's close study of bird calls heard in Glasgow during the coronavirus lockdown of 2020.
Birds' vocalisations can transmit over long distances and cut through noisy environments, but the pause in human activity during the pandemic allowed us to hear them more clearly. Contact calls, as distinct from birdsong, are short phrases shared back and forth whilst foraging. These avian dialogues, where a nearby bird is answered by another at a distance, create patterns of call-and-response. 
Marquiss attempted to mimic bird calls with the guitar, imitating rhythmic phrases, high pitches and percussive sounds. Some sections sound bird-like, whilst other parts are extended improvisations, played in response to field-recordings of local birds. Contact Call was commissioned by The Common Guild, Glasgow.
Exhibited online alongside Contact Call, Marquiss's moving image work Mirror Test is a portrait of Jacky, a female jackdaw who lives in a human house.
Artist(s)

Duncan Marquiss

Country(s)

Year

2020

Medium

Sound

Duration

30 mins

Premiere status

No premiere

Film website