2020
04min
World premiere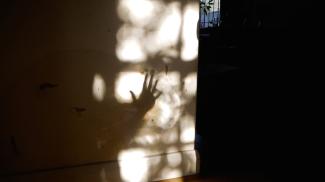 View Dancing for free at S1 Artspace or on our Online Exhibitions Platform.
Geraldine Snell's Dancing is a home video playfully capturing a moment of sublime sunlight shining onto a flaking living room wall. One fixed shot documents the shadows of a door being abruptly opened, the artist's hand dancing in the stream of the sunlight cast upon the wall, her figure moving across the frame, and the door being closed again. Made at the start of the Covid-19 lockdown in the UK, it became the first in a series of works titled Light & Love, focused on careful observation of immediate and ephemeral phenomena.
Still Life Moving, shot in April 2020 and from the same series, shows the artist and her housemate marvelling at the beautiful colours that sunlight casts through various coloured drinking glasses on their kitchen counter.
These works were originally shared on social media to provide a soft, haptic counterpoint to the quick, slick imagery we are subjected to in digital space, in unconditional eternal testimony to the sublimely mundane.

Geraldine Snell will be in conversation with Mohamed Abdelkarim as part of this years Talks programme.
Artist(s)

Geraldine Clare Snell

Country(s)

Year

2020

Medium

Moving Image

Duration

4 mins

Premiere status

World premiere

Film website