Australia

,

United Kingdom

2021
45min
No premiere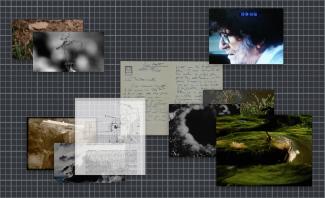 Book a free ticket for Sam Smith's performance of E.1027 at SHU Performance Lab or view a live stream on our Online Exhibitions Platform. 
E.1027 is a performance based on the complex history and imagined future of Irish architect and designer Eileen Gray's eponymous villa. A history of conflict, etched within the building's material structure, plays out in episodes of companionship, obsession, murder and destruction. The work actively seeks to diminish the importance of Le Corbusier within this narrative, whose obsessive relationship with Gray's villa is encaptured in his vandalistic murals that were painted directly onto the walls of the house. 
A skillful editor and montagist, Sam Smith here combines moving images, sound and archival documents through multi-channel projection from a laptop. One of the artist's signature desktop performances—utilising the structure and mechanics of personal computers to synthesise and display works in as an aural-visual collage—E.1027 gives resonance and voice to Gray's one-time home as an entity capable of reorganising matter, facilitating life and playing a central part in its own narrative.

Artist(s)

Sam Smith

Country(s)

Australia

,

United Kingdom

Year

2021

Medium

Performance

Duration

45 mins

Premiere status

No premiere

Film website