2021
09min
National premiere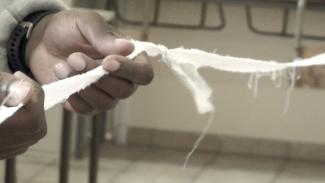 View How to order online for free at Site Gallery or on our Online Exhibitions Platform.
With inmates submitted to occasional and monitored phone calls, no internet connection and complete restriction of economic transactions, French prisons are dead zones in the heart of lively cities. To overcome this situation, they developed their own exchange infrastructure, a mechanical network of handmade tools (called yo-yos) which allow for the circulation of goods and messages.
In a collaboratively-produced work, French artist Julie Ramage speaks with inmates who reveal the development, craftsmanship and ingenuity which they have adapted in response to the constantly evolving architectural and legal landscapes of the penitentiary. In essence, the yo-yos act as a "mechanical intranet," allowing the prison population to "order online." They symbolize the power dynamics within prisons while also confirming the universal human need for exchange. The film's soundtrack consists of recordings of inmates using tools to engage in geophysical prospecting of the soil underneath the prison in Poissy. These were transformed into soundwaves, allowing us to get an aural impression of the prison's secret telecommunication network from out of the soil below.


Artist(s)

Julie Ramage

Country(s)

Year

2021

Medium

Moving Image

Duration

9 mins

Premiere status

National premiere

Film website