1975
17min
International premiere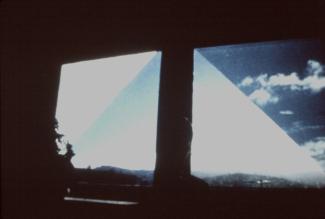 View Same Difference for free at SHU Performance Lab or on our Online Exhibitions Platform.
Al Wong's Same Difference was composed over the course of a year, a 16mm camera set up on a tripod in the artist's kitchen capturing views of the San Francisco hills through a large double window. Artist Ursula Schneider sits on a chair underneath the window, her presence and stillness an essential part of the work. With Schneider's body in the centre of the frame, Wong shot freely at different times of day and night, cloudy or empty skies, and experimented with in-camera effects and editing to compose complicated choreographies of light, clouds and atmosphere.
The soundtrack of Same Difference is a drone composition recorded by artist Terry Fox, expressing the depth and immensity of the film's visuals. The process of shooting Same Difference directly informed Al Wong's long-form structural film Twin Peaks, produced two years later as a further development of the window motif. Viewing Same Difference is a hypnotic, meditative experience, as well as a metaphor for the endless cycles at the centre of Zen Buddhist philosophy.

Al Wong will be in conversation with Emily Chao as part of this year's Talks programme.
Artist(s)

Al Wong

Country(s)

Year

1975

Medium

Super 8

Duration

17 mins

Premiere status

International premiere

Film website