2019
12min
National premiere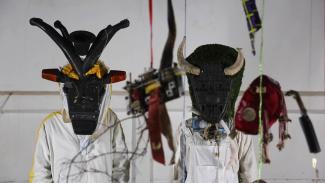 View The School of Mutants for free on our Online Exhibitions Platform.
The three-channel video installation The School of Mutants stages a radio interview in a fictional and uncertain time. Two characters talk about how to inhabit the territory. Their discussion seems to resonate with the landscape of brutalist and industrial ruins that surrounds them. A tension arises, between doubts and questions about their vision of the future. In contrast to the fatalism of one, the other argues that the ruins are a shelter for organising a common life and breaking the cycle of political disillusionment. Oscillating between cinema of the real and futuristic speculation, the work leads us into a poetic and political reflection on the mutations of the world.
The School of Mutants is part of long-term research that artists Hamedine Kane and Stéphane Verlet-Bottéro have been conducting since 2018 around projects for alternative schools and universities conceived after Senegal's independence. 


Artist(s)

The School of Mutants, Stéphane Verlet-Bottéro, Hamedine Kane

Country(s)

Year

2019

Medium

Moving Image

Duration

12 mins

Premiere status

National premiere