2020
15min
National premiere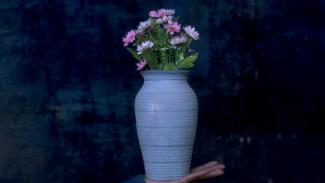 View Sunsets, everyday for free at Site Gallery or on our Online Exhibitions Platform.
Basir Mahmood's Sunsets, everyday arises from research into the ethics of creating images depicting domestic violence, a global emergency made even more urgent by the COVID-19 pandemic. Rather than producing representations that could risk viewers reliving these traumas, Mahmood focuses on domestic violence as something that can be hidden from the outer world, and thus fills the film with images typically hidden from view.
Taking as a starting point images that victims courageously shared on social media to encourage others to speak out, Mahmood commissioned a production unit in Lahore to film a repeated scene of domestic violence in his absence, based on his instructions and these images from social media. While the main crew was busy with their gruelling work, two camera operators constantly filmed the process, props and unseen side of the shoot. Tension, texture and movement are shown in oblique angles and perspectives too close for comfort. But the most evocative analogue that Mahmood utilises is the repetition of mundane tasks, underscoring the callous routine of domestic violence, a repetitive loop that must be broken.
Artist(s)

Basir Mahmood

Country(s)

Year

2020

Medium

Moving Image

Duration

15 mins

Premiere status

National premiere

Additional information

Contains references to domestic abuse