2018
13min
World premiere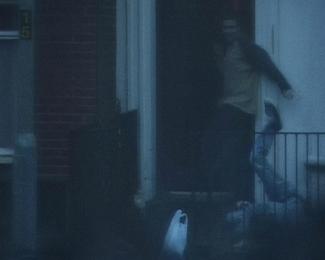 View There's A Weight On You But You Can't Feel It for free at Site Gallery or on our Online Exhibitions Platform.
There's A Weight On You But You Can't Feel It is a new collection of short films made between 2008 and 2018 by Séamus Harahan. While Harahan's films have taken a number of different forms, this grouping focuses on his observational documentaries, recorded on video cameras shooting through the windows of various places he lived in North Belfast across those years. The films capture found activity, natural and built environments, the animal world and human unpredictability. The visual layer of the films are then married to new (primarily musical) soundtracks which serve to dislocate the films from the realm of pure recording to something more complex and ambiguous, the intersection of inner and outer realities.
While this construction might become repetitive or rote in less capable hands, Harahan wrings from the images and sounds a range of unexpected emotions. Watching this collection of films, a viewer can't help but contemplate the beauty, hilarity, strangeness and wonder that they might witness if they too patiently observed out of the windows of their own homes. 
Intro-Bee-ing Sequential Spectrum (cold open) (2014, 0:49) 
bitter branches (2018, 2:29)
I'm running on a river (cold open) (2014, 0:29) 
Ubaldo Continiello (2013, 1:18)
Stay Here a While (2008, 0:38) 
fitter happier II (cold open) (2010, 2:20)
shiney wet stones (cold open) (2016, 3:14) 
Artist(s)

Séamus Harahan

Country(s)

Year

2018

Medium

Moving Image

Duration

13 mins

Premiere status

World premiere