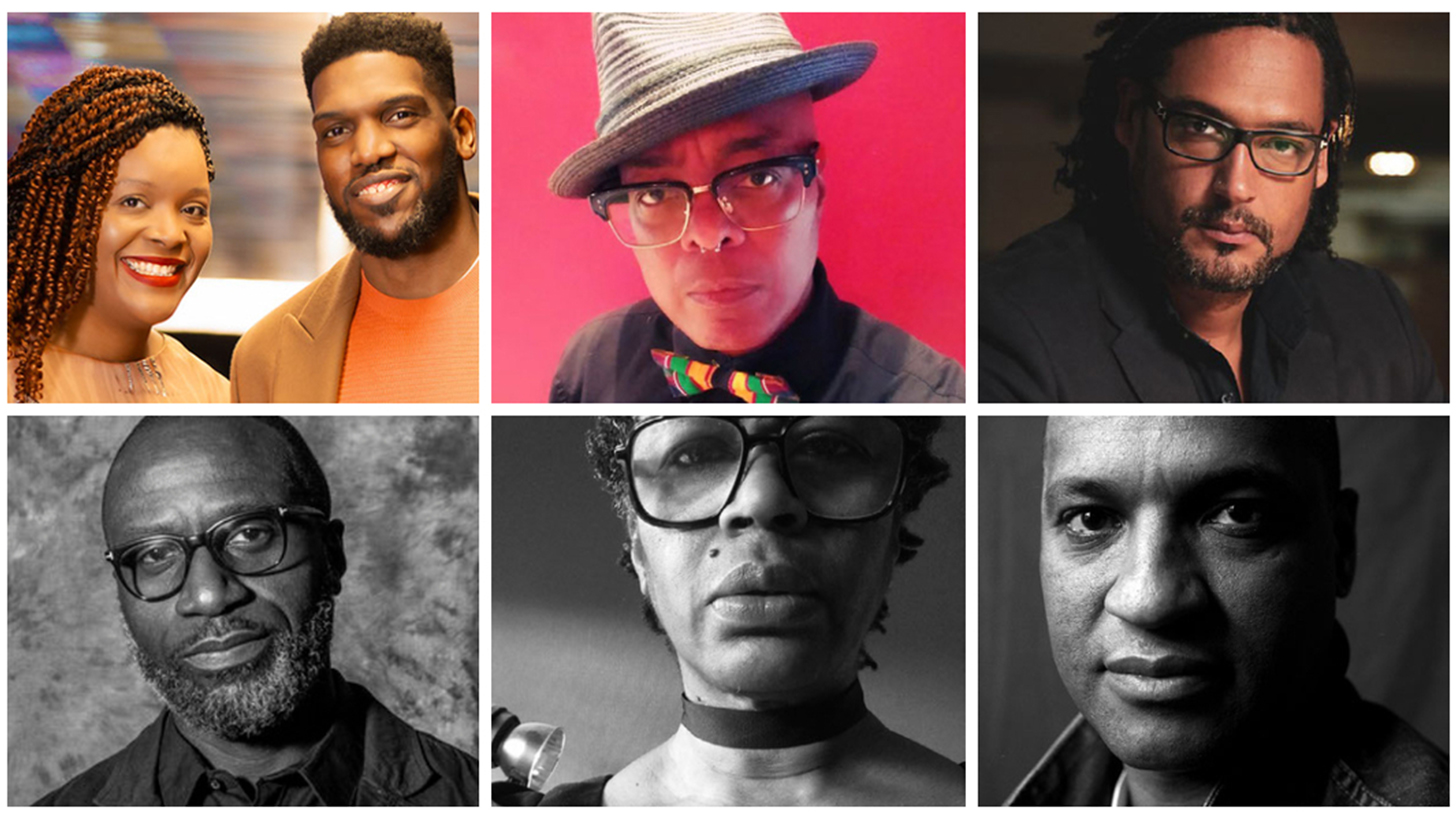 Announcing our 2021 Retrospective: Films belong to those who need them - fragments from the history of Black British Cinema
This year we want to spotlight and celebrate the history of Black British screen culture - a wide and diverse filmography that has been largely overlooked and undervalued in film discourse. We want to find connections between past and present, and to spark a conversation about how this filmography resonates with contemporary filmmakers and artists, and how it can inspire and inform the ways in which we conceive our own communities.
We are excited to announce that for the first time, we have invited guest curators, with a range of perspectives that will transcend the idea of a singular, complete narrative. The guest curators come with a breadth of experience: as filmmakers, film programmers, programme presenters, photography curators, film students and historians.
With such an abundant, complex and diverse filmography, which has a contested history of visibility and access, we felt it essential to present programmes curated by people who inhabit this history through their work, their existential pursuits, and their curiosity and care. So we will present works by voices that could multiply,  intersect, and together bring an image of such a rich spectrum of work.  
This is the beginning of an ongoing series that we want to bring back in the following editions, as a place for reframing history and building access.
The Retrospective will include work chosen by the following guest curators:
- Anthony Andrews & Teanne Andrews (We Are Parable)
- Campbell X (writer/filmmaker)
- David Olusoga (historian, broadcaster and filmmaker)
- George Amponsah (filmmaker)
- Judah Attille (filmmaker)
- Mark Sealy (curator and cultural historian)
A group of Film Studies/Screenwriting & Film students from Sheffield Hallum University as part of a partnership project led by Dr Chi-Yun Shin (Principle Lecturer in Film Studies).
Find out more about the team: 
Anthony Andrews & Teanne Andrews (We Are Parable) 
We Are Parable is an award winning film exhibition company founded by Anthony and Teanne Andrews in 2013. Since that time, they have focused on providing audiences around the UK with opportunities to respond to and experience Black Cinema in culturally relevant, memorable and unique ways. We Are Parable are dedicated to putting the audience at the heart of everything they do, and believe in "Experience Over Everything" - a philosophy which represents the emotional connection that we want to create at their events.
We Are Parable's programme Remember/Re-evaluate/Review will take titles from the 1970s which explore and identify how implicit racism has continued to fester in the British Media, some 40 years after these projects were first broadcast. 
Campbell X
Campbell X is a writer/director who directed the award-winning queer urban romantic comedy feature film Stud Life. His film Stud Life was voted by the Guardian as one of the top 10 Black British feature films ever made. It was also in Vogue magazine as one of the best films to watch in 2020. Stud Life was also selected by the British Film Institute as one of the top 8 queer films to view while we were all on lockdown. Campbell was one of the writers at the Royal Court for My White Best Friend theatre series. Campbell directed and produced the short film DES!RE, the documentary VISIBLE which headlined the Scottish Queer International Film Festival in December 2018. Campbell directed the award-winning TV webseries Different for Girls and is one of the directors of the transgender webseries Spectrum London. Campbell is the Co-founder with Neelu Bhuman of Wahala Film Fund, a completion fund for short films by and about QTIPOC people.
In Campbell X's programme Destroy | Disturb | Disrupt - Decolonizing Queer Desire, Black queer filmmakers craft an intervention into desire for the Black queer body on film - a space denied to Black queer people as agents of our own longing and storytelling. These films show Black queer filmmakers creating our own language to disrupt our colonised historical framing by the white straight cisgender lens.
David Olusoga
David Olusoga is a British-Nigerian historian, broadcaster and film-maker. His most recent TV series include Black and British: A Forgotten History (BBC 2), The World's War (BBC 2), A House Through Time (BBC 2) and the BAFTA winning Britain's Forgotten Slave Owners (BBC 2). David is also the author of Black & British: A Forgotten History which was awarded both the Longman-History Today Trustees Award and the PEN Hessell-Tiltman Prize. His other books include The World's War, which won First World War Book of the Year in 2015, and The Kaiser's Holocaust: Germany's Forgotten Genocide and the Colonial Roots of Nazism. David was also a contributor to the Oxford Companion to Black British History and writes for The Guardian, The Observer and BBC History Magazine.
George Amponsah
George Amponsah is a multiple award winning BAFTA nominated filmmaker who first started taking pictures in the 1980s as a photographer and Super 8mm film enthusiast. George's most recent directing work is Black Power, a 90 minute film (TX March 2021) exec produced by Oscar winning director Steve McQueen for the BBC. Black Power examines how the British Black Power moment came into being in the late 1960s and fought against police brutality and racism. 2019 saw George working as director on Enslaved –an inspirational six-part documentary series (BBC2) hosted by Academy Award nominated actor Samuel L. Jackson that brings home the horror of slavery to the world through underwater archaeology. George's directing work on Enslaved involved filming in Brazil, Ethiopia and Jamaica as well as Europe and the UK. George's feature length documentary- The Hard Stop was nominated for a BAFTA in 2017 in the Outstanding Debut category. The Hard Stop unpeels the true story behind the UK riots of 2011 following the death of Mark Duggan who was shot and killed whilst being arrested in a 'hard stop' procedure by armed police. This incident ignited a riot that escalated into a week of the worst civil unrest in recent British history.
Judah Attille
Judah Attille (she/her) is a TECHNE AHRC funded doctoral student at University of the Arts London. Her film Dreaming Rivers (1988) written and directed for Sankofa Film & Video and her current research into British black female performativity in avant-garde films has brought her into site-specific conversations with contemporary artists and filmmakers across several platforms. This proposal, Sonic Register: British black womxn and onscreen performativity, builds on discussions from Films in Dialogue LUX Moving Image (2019), Sankofa Whispers: Remembering, Reflecting and Reframing (2019), The Experimenta Debate, London Film Festival (2019) and the Brent Biennial podcast Yasmin Nicholas in Conversation (2021).
Judah Attille's programme Sonic Register: British black womxn and onscreen performativity is a curated discussion of films animated by a three-way conversation between British womxn working in the arts. This conversation considers 'performativity' as an expanded function or 'doing' within and beyond the frame. The conversation takes a critical non-fiction approach to form a contemporary lens to look at canonical, heritage British films.
Mark Sealy 
Mark Sealy, Executive Director of Autograph ABP (1991) and Principal Research Fellow: Decolonising Photography at University of the Arts London (University Arts London). Sealy is a core member of the Photography Archive Research Centre at London College of Communication. He is interested in the relationship between photography and social change, identity politics, race, and human rights. He has produced numerous artist publications, curated exhibitions, and commissioned photographers and filmmakers worldwide.
In Mark Sealy's programme SE24 – HD4 - SW3. Posting Codes the underlying principle of what constitutes home is what links films by Clovis Salmon (aka 'Sam The Wheels'), Topher Campbell and Sandi Hudson-Francis together. They discuss ideas of place, space, migration, community, location and dislocation. Most importantly though as a body of films they remind us of how important it is to post the codes of our own stories.
A final programme will be curated by a group of Film Studies / Screenwriting & Film students from Sheffield Hallam University as part of a partnership project led by Dr Chi-Yun Shin (Principal Lecturer in Film Studies).
The full programme will be announced in mid May at which point individual tickets for the film programme, in Sheffield and online – including the Retrospective – will be available. From today, Online Industry Passes are available to filmmakers, artists, freelancers and members of the film, digital art and related communities from all over the world to engage with the artistic and industry programmes online. An early bird offer is available until 10 May.
TO KEEP UP TO DATE WITH ALL THE DOC/FEST NEWS, SIGN UP TO OUR ENEWS HERE.