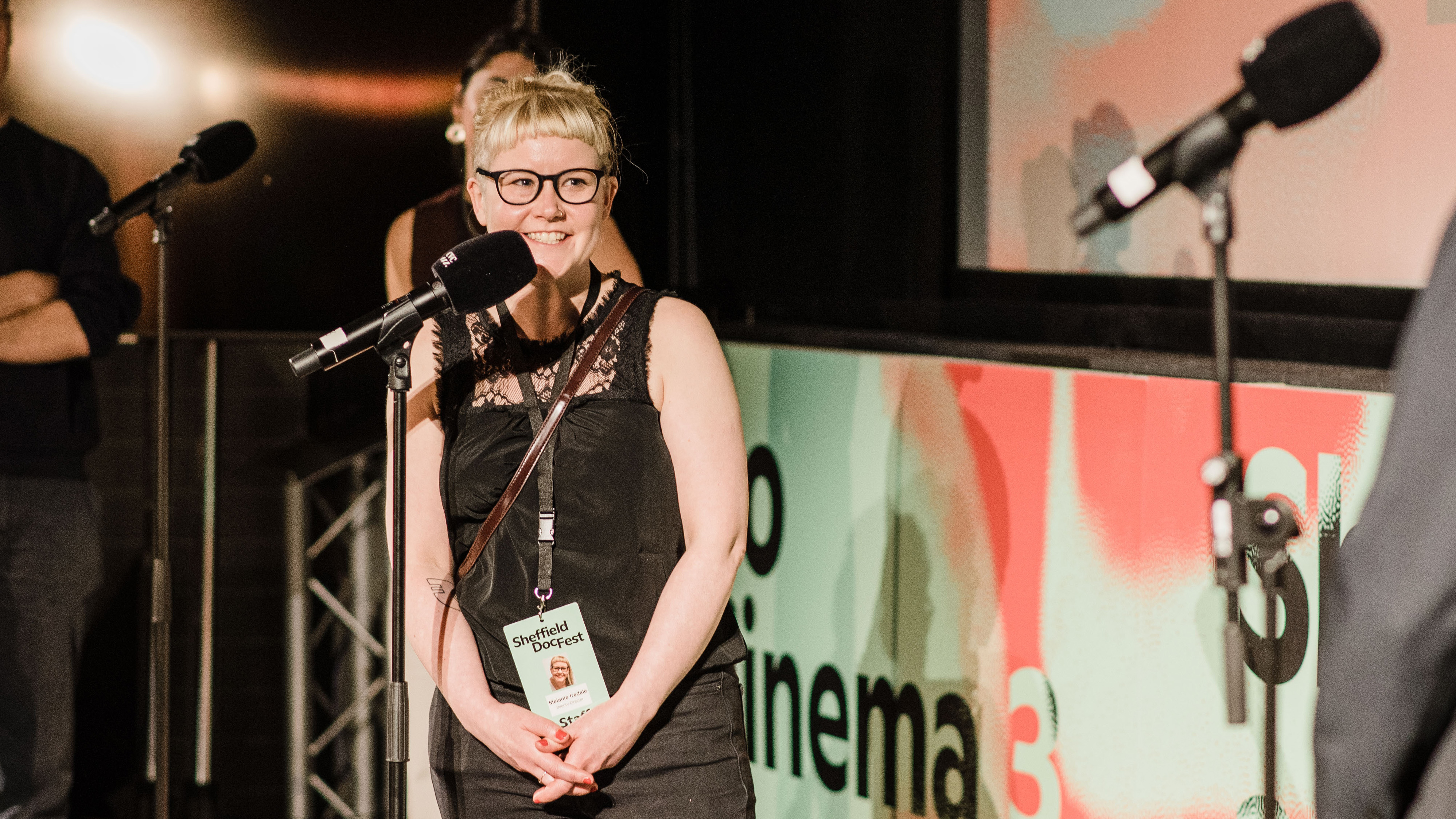 Today we wish our sincerest congratulations to our Deputy Director Melanie Iredale who has this afternoon been announced as the incoming Director of Birds Eye View. Melanie leaves for Birds Eye View after seven years as Deputy Director here at Sheffield DocFest, since 2014, having been involved for four years previously as Development Consultant, and who temporarily stepped up as Interim Director 2018-19.
From September, Melanie (she/her) will lead Birds Eye View, a charity which campaigns for gender equality and diversity in film, and which champions women and non-binary filmmakers. She succeeds current BEV Director Mia Bays who leaves in October for the position of Director of the BFI Film Fund.
You can read the Birds Eye View announcement here.
Originally appointed to develop Sheffield DocFest's public programme and engagement, Melanie has over the years led on the growth of the of the Alternate Realities (now Arts) programme, securing Arts Council England National Portfolio status in 2017 and leading on national and international tours. In 2018 Melanie was invited to step up as Interim Director of the 2019 edition, overseeing an increase of 50%+ womxn-directed films in the programme, 57% in competition, its most diverse and international programme up to that point. During this time Melanie also spearheaded the organisation achieving charitable status, furthering its mission to advance the art of film, education and training in documentary filmmaking for public benefit. More recently, under Cíntia Gil's leadership, Melanie co-curated DocFest's Rhyme & Rhythm strand, where cinema meets other art forms, and the festival's inaugural UK Competition.
While sad to see her leave after so many years of dedication, the team is really excited for her, and keen to explore how we can build on our collaborations with BEV in the future.
In the Birds Eye View announcement, Melanie states:
"

I bring with me seven years' experience as Deputy Director at Sheffield DocFest and owe a huge thanks to the artists and filmmakers involved for their trust, to the networks I built for their support, and to such a dedicated team for their collaboration over the years. I leave the charity proud of what we achieved together and grateful for everything I learnt along the way - all of which will come with me on this next chapter." 
Alex Cooke, Chair of the Board of Trustees, says:
"The Trustees would like to thank Melanie for the commitment and energy she has devoted to DocFest over the last seven years. During her tenure she has been instrumental in helping to grow the public programme and develop audiences for non-fiction works both nationally and internationally. The Trustees wish her every success in her new role."