Fri 4 June 11:00
S1 Artspace
7h 00min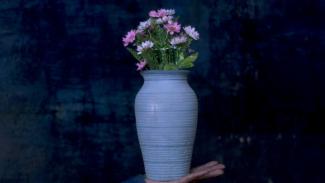 Book a free ticket for Here In This Room and The Registry at S1 Artspace, or view them for free on our Online Exhibitions Platform. 
Please bring your own plug-in headphones to the exhibition.
This group exhibition at S1 Artspace and Site Gallery focuses on the dual concepts of "domestic ambience" and "domestic surrealism", considering the ways that artists have depicted or reimagined living spaces, domestic labour/routines, or many different ideas of home. Intended as a productive feedback loop with the extraordinary circumstances that led many of us to be "stuck at home" for many months on end,
Here In This Room
looks to the ways that artists have seen domestic spaces differently. Whether viewers encounter these works—produced across different years, geographies and perspectives—within the contemplative space of our exhibitions, or through our online platform in their own domestic space, the aim is for these artists' work to act as invitations to see and appreciate space in new, unintended and even fantastical ways. Curated by Sheffield DocFest Arts Programme Curator Herb Shellenberger, this exhibition features works across different forms including moving image, installation, mixed media, sound and performance.
Artists featured at
S1 Artspace
: 
David Haxton,
Painting Room Lights
, 1981
Deborah Findlater,
Rituals
, 2019
Duncan Marquiss,
Contact Call
, 2020
Geraldine Snell,
Dancing
, 2020
Sophie Michael,
Rabbit Hole
, 2021
Wanja Kimani,
borrowed intimacy
, 2013
—
The Registry
is a new moving image installation by Los Angeles-based artist and independent filmmaker Alex Tyson commissioned by Sheffield DocFest.
An evolution from his past works of formal innovative documentary film,
The Registry
is the artist's first narrative work, an elliptical, layered psychological horror that brings together multiple storylines which intersect in complex ways. Embedded within these narrative threads are topics salient to the documentary/non-fiction field: the afterlives of images of war and their fictional representation; the potential tokenisation of subjects, stories, and makers by the industry; and the ethical dilemmas arising from the commercialisation of the stock image/footage market.