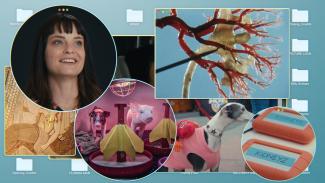 Book Tickets
Relaxed Screening of Confessions of a Good Samaritan where filmmaker Penny Lane's decision to donate one of her kidneys to a complete stranger leads her on a journey to understand the nature of altruism.
Can one give too much? It's a question that lies at the heart of Our Nixon and Hail Satan? director Lane's most personal documentary. After deciding to donate a kidney to an unknown recipient, she sets out to understand the way we approach the issue of giving. Told in the first person, Lane is forthright in discussing not only her reasons for putting herself through such a profound and life-altering act, but also the emotional impact it has had on her. Erasing the line between filmmaker and subject, Lane is disarmingly honest in dealing with the emotional fallout of her actions, but also determined to grapple with the idea of giving and the limits that we place on it.
Our Relaxed screenings are sensory adapted cinema. This means that we want them to be as inclusive as possible. You can move around and make noise during the film, the sound will be a little quieter and the lights will be up a little so you can see around you. There will be a quiet space available for everyone outside of the cinema screen and, as with all our screenings, carer tickets are free. These screenings are for everyone but they are especially programmed for neurodiverse people.
In this show
Confessions of a Good Samaritan
105 mins
More Info