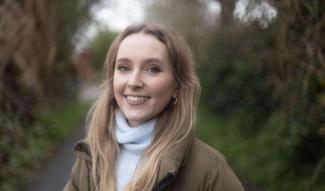 Book Tickets
Actor and Strictly Come Dancing breakout star Rose Ayling-Ellis will discuss her exciting new project.
We are delighted to welcome actor and Strictly Come Dancing 2021 winner Rose Ayling-Ellis, and the Rogan Productions documentary team, to Sheffield DocFest to discuss Rose's upcoming BBC documentary Signs For Change. Making a documentary using British Sign Language requires creative solutions. As we shift towards a more inclusive industry, we'll be unpacking the process and discuss with Rose what she and the team have learnt over the course of the production.

Speakers: Rose Ayling-Ellis, Ted Evans, Cathy Heffernan, Nichola Garde, James Rogan. 

Moderator: Emma Loach
Supported by the BBC
Signed - A British Sign Language interpreter will be visible on stage throughout the event. Interpreted by Harry Wadsworth and Connor Lalitte from Signingworks
Open Captions - spoken dialogue and sound effects in the film clips will be converted to text and appear on screen.
Live Captions - spoken dialogue during the Q&A on stage will be converted to text and appear on screen.
Please click here for venue accessibility information.