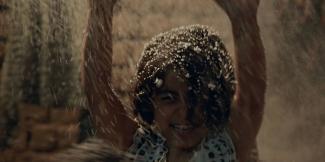 Book Tickets
These profound and deeply touching films speak of things often left unsaid. A man finally brings to light a traumatic childhood secret; a mother writes a message to her unborn child, and a filmmaker constructs a wild youth from the letters a young man left behind.

Letter to ElieLettre à Elie
Alexis Grigorieff / UK / 2023 / 24 / World Premiere
Camille writes a letter to her unborn child. Recently diagnosed with bipolar disorder, she does her best to prepare for life as a new mother.
Dear MonsterCaro Mostro
Stefano P. Testa / Italy / 2023 / 16 / World Premiere
A fragmented collection of letters tells the story of Elio's passage from adolescence to adulthood, in this visually inventive collage.
Can I Hug You?میشه بغلت کنم؟
Elahe Esmaili / UK, Iran / 2023 / 35 / World Premiere
In this astoundingly intimate film, Hossein brings his parents together to confront a difficult secret from his past.