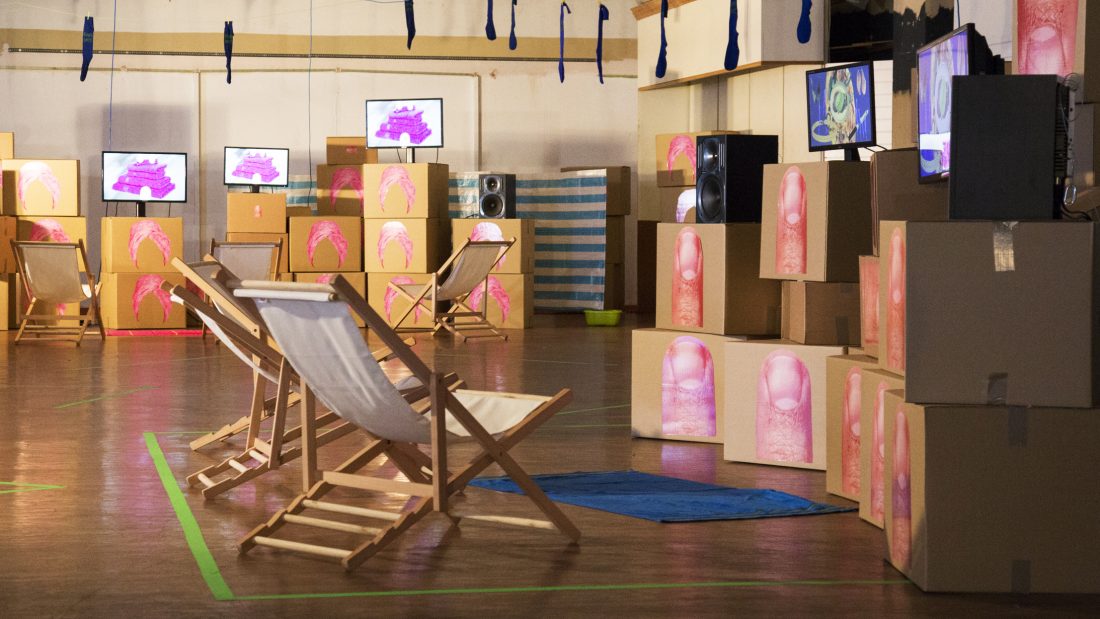 ***APPLICATIONS FOR THE ALTERNATE REALITIES OPEN CALL ARE NOW CLOSED***
Thanks to the generous support of Arts Council England and in partnership with Site Gallery, we have launched an open call for our Alternate Realities 2022 Commission. We have welcomed applications for new digital works or projects in development that need completion funding. The commission offers up to £15,000 and will be included in our Alternate Realities 2022 exhibition programme and exhibited at Site Gallery during the Festival, with the possibility of an extended exhibition run.
This open call is for artists who work in digital non-fiction, create immersive experiences or experiment with new technologies. We encourage applications from debut, emerging and established artists and collectives from the UK and internationally.
The deadline for applications has now passed, but please check back on our site and socials for updates on the selected commission in the following months. 
Previous commissioned artists and artworks include:
Assent

, Oscar Raby, 2015

FINAL DAYS

, Heather Phillipson, 2015

Indefinite

, Darren Emerson, 2016

Future Aleppo

, Alex Pearson/Marshmallow Laser Feast, 2017

Face to Face

, Michaela Holland & Michelle Gabel, 2018

Spectre

, Bill Posters & Daniel Howe, 2019

In Posse

, Charlotte Jarvis, 2020

The Registry

, Alex Tyson, 2021

Right on Time Radio

, Himali Singh Soin, Karim Kattan & Yasmine Benabdallah, Les Bonnes Ondes feat. Layal Rhanem, micro.radio, Yasmina Reggad, AWU Radio, 2021
For a closer look into past commissioned artworks, look here. 
How can we support you?
The selected proposal will be awarded up to £15,000 to cover artist fees, production costs and expenses. Travel (including international flights) and accommodation for the selected artist(s) to install their work and participate in our Alternate Realities programme at the Festival will come from this fund.
The selected winner cannot use the funding to build a marketing campaign for an existing work. Both Sheffield DocFest and Site Gallery will provide marketing support and expertise to promote the Commissioned work. 
We will support display costs through securing the venue and basic AV equipment (subject to technical requirements) and we will also provide the technical support needed to exhibit the work as part of the festival. Sheffield DocFest will act as Executive Producer and we will offer curatorial and production support in the delivery and marketing of the commission.
Who can we support?
We welcome applications from artists based in the UK and internationally

Applicants must be able to demonstrate a strong commitment to innovation in digital storytelling in the realm of non-fiction

Evidence of a strong body of artistic work, including a proven track record of recent work, projects, exhibitions, publishing, and/or commissions is desirable, but not essential as this is completion funding

The panel is open to projects that may have already started or are in production, providing we are made aware of any other partners or funding bodies involved in the project

It is the sole responsibility of the applicant to secure clearance from the copyright holders of any copyrighted materials included within the submitted projects. Sheffield DocFest will not be held responsible for the unauthorised inclusion of any copyrighted materials within or related to the submitted application.
What medium will we commission? 
Alternate Realities is open to work in a range of formats and media. Below are some media we have previously shown in our exhibition programme, however, we are always open to new media and technologies so this is by no means an exhaustive list.
360° video 

Artificial Intelligence / AI

Audio / Sound

Augmented Reality (AR)

Game 

Digital Installation 

Extended Reality (XR)

Interactive Documentary

Mixed Reality (MR)

Motion Comic 

Moving Image / Video / Expanded Cinema 

Interdisciplinary Performance

Virtual Reality (VR)
If you have another format that you would like to be considered for the Alternate Realities 2022 commission, please contact alternaterealities [at] sheffdocfest.com to see if we can consider your proposal.
The Selection Process
This year's panel will comprise curators from Sheffield DocFest and Site Gallery.
Selection will be made on the basis of the application submitted.
Selection of work will be based on originality, strength of concept, feasibility of production and how well they relate to our aim to support artists in the emerging field of non-fiction. Through our professional support and exhibition display, we see this commission as an opportunity to substantially benefit the selected artist or collective's practice and career.
Shortlisted artists will be invited for an informal video chat to discuss project details (dates TBC). The primary contact listed in your proposal form will be contacted about the status of your entry in early March 2022. Due to the volume of entries received, we cannot offer feedback or individual comments for proposals not selected for the commission.
About Site Gallery
Site Gallery is Sheffield's contemporary art space specialising in new media, moving image and performance. Pioneering emerging art practices and ideas, Site works in partnership with local, regional and international collaborators to nurture artistic talent and supports the development of contemporary art.
Site is supported by Arts Council England NPO programme and Sheffield City Council. It completed an expansion programme in 2018 which created a brand new large-scale gallery space and two dedicated Studios for events, screenings and smaller scale programmes.
Site Gallery works with early-career to established artists to commission new work, produce exhibitions, residencies, performances, events and community programmes. In recent years it has worked with artists such as Elizabeth Price (UK), Rafael Rozendaal (Netherlands), Phoebe Davies (UK), Sonya Dyer (UK), Susan Collins (UK), Georgina Starr (UK), Susan Hiller (US). Site runs a residency programme: Platform, currently supported by Freelands Artists Programme, which is investing in 20 artists from South Yorkshire. It runs Society of Explorers throughout the year, a peer-led young people's group which makes unique connections with artists and gain.
Image credit: FINAL DAYS, Heather Phillipson, 2015.