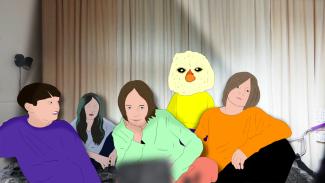 Book Tickets
Relaxed Screening of three short films from our festival programme that explore poetry, childhood, imagination, nature, and gratitude.
Total runtime: 68 minutes

Programme includes the following films:

Regard Silence
Mira el silencio
Santiago Zermeño / Mexico / 2022 / 29 / UK Premiere
A group of D/deaf people playfully explore the possibilities of Mexican Sign Language through theatre games and their own poetic creation.

George-Peterland
Gösta Petter-land
Christer Wahlberg / Sweden / 2023 / 15 / UK Premiere
A group of 8-year-olds invent the shared fantasy world of George-Peterland – A dreamy forest land ruled over by the chicken god.

Between Earth & Sky
Andrew Nadkarni / USA, Costa Rica / 2023 / 25 / European Premiere
After a life-threatening fall from a tree, world-renowned ecologist Nalini Nadkarni uses her recouperation to untangle the troubled roots of her past.
Content Guidance: Contains descriptions of trauma and sexual abuse.


Our Relaxed screenings are sensory adapted cinema. This means that we want them to be as inclusive as possible. You can move around and make noise during the film, the sound will be a little quieter and the lights will be up a little so you can see around you. There will be a quiet space available for everyone outside of the cinema screen and, as with all our screenings, carer tickets are free. These screenings are for everyone but they are especially programmed for neurodiverse people.