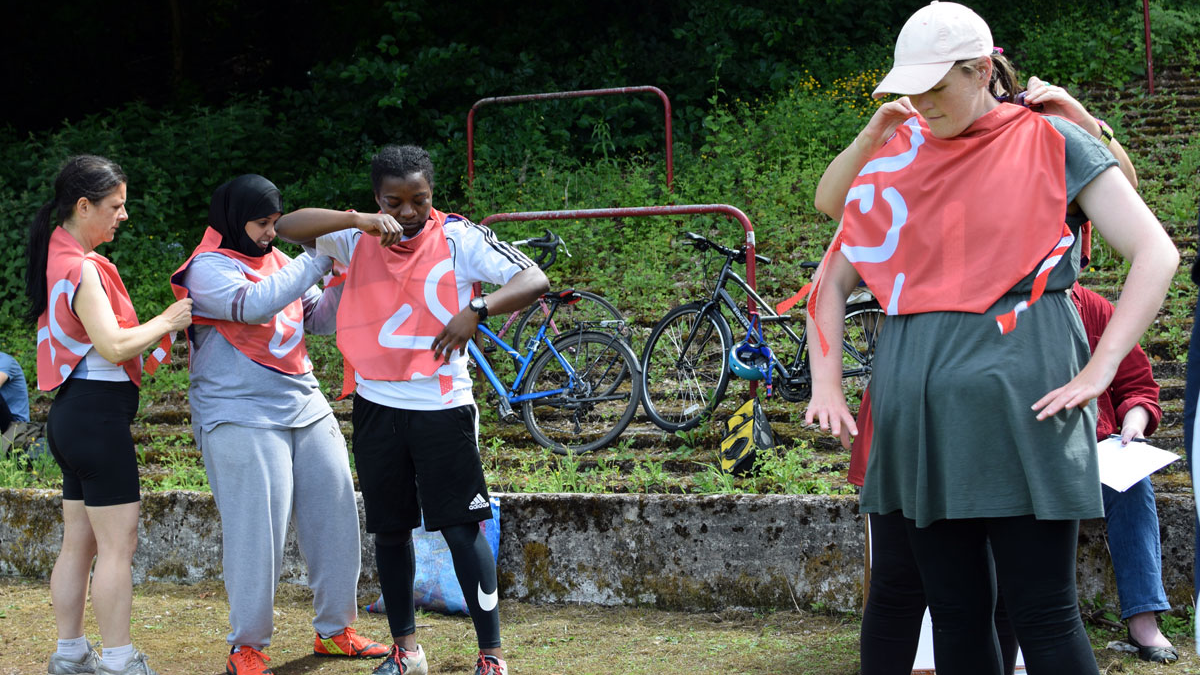 We're seeking women* and non-binary football players to take part in a 3-sided co-operative football match organised by Feminist Exchange Network, taking place on Thursday 23 June at Sheffield Amphitheatre.
The match will be an active, creative and fun way of looking at different themes on feminist economics, with players playing for 3 teams: Decolonisation, Ecofeminism and Caring Economy all aiming to form allegiances rather than beat the other teams. 
If conventional football looks like an argument, co-operative football is a conversation. 
Register your interest here to take part.
How It Works
Before the match all footballers will be given training in how co-operative football works, a short introduction on the topic/theme of their chosen team before working together to decide on their team strategy for cooperation. 
The match will be played in three thirds, each third being 20 minutes long, with break between to regroup and discuss how their strategies are working. 
Footballers will be paid for their time £75 for the day and refreshments will be provided.
What We Need
We're looking for players with an interest in the team topics and a willingness to take part and be filmed whilst playing. You don't need prior footballing experience but our Expression of Interest form asks for an indication of experience for our reference.
You need to be available during the day on Thursday 23 June from Midday until 4pm. Do use the Expression of Interest form to let us know how we can assist you to take part.
Register Your Interest
If you're interested in playing Feminist Economics Football we want to hear from you. We're seeking women* who are available during the day on Thursday 23rd June to take part in training sessions and the match itself who are happy to be filmed. Follow this link to express your interest.
* Inclusive of transgender women, non-binary and gender non-conforming people who are comfortable in a space that centres the experiences of women.